A Death in the Family (Paperback)
Thank you for thinking of us! As of March 31, 2020 our physical store and this online catalog will be closed to customers. You can order from us online here, and get your books shipped straight to your home! The direct-to-home site will require a new username and password, but will also provide a 10% discount on your purchases. Your support is incredibly important to us and we will be hard at work recommending great titles for you on our online store and social media. Please stay safe, and happy reading!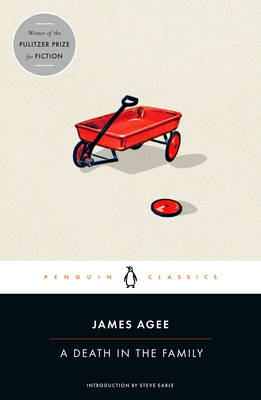 Staff Reviews
---
Published posthumously and awarded the Pulitzer Prize, Agee's ode to family and Southern living is both graceful and deeply resonant. 
— Roxanne
Description
---
The classic American novel, re-published for the 100th anniversary of James Agee's birth

A Penguin Classic

One of Time's All-Time 100 Best Novels

Published in 1957, two years after its author's death at the age of forty-five, A Death in the Family remains a near-perfect work of art, an autobiographical novel that contains one of the most evocative depictions of loss and grief ever written. As Jay Follet hurries back to his home in Knoxville, Tennessee, he is killed in a car accident—a tragedy that destroys not only a life, but also the domestic happiness and contentment of a young family. A novel of great courage, lyric force, and powerful emotion, A Death in the Family is a masterpiece of American literature.
About the Author
---
James Agee (1909­–1955) is the author of Let Us Now Praise Famous Men, the renowned study of Alabama sharecroppers during the Depression. Born in Tennessee, he died two years before the publication of A Death in the Family, his most famous work.
 
Steve Earle (introducer) is an American singer-songwriter, political activist, and author of the short story collection Doghouse Roses. Born in Virginia, he lives with his wife in New York City.
Praise For…
---
Winner of the Pulitzer Prize for Fiction

"[James Agee's words] are so indelibly etched someplace inside of me that I couldn't reach to rub them out even if I wanted to. And I never want to." —Steve Earle, from the Introduction 

"The work of a writer whose power with English words can make you gasp." —Alfred Kazin, The New York Times Book Review

"It is, in the full sense, poetry. . . . The language of the book, at once luminous and discreet . . . remains in the mind." —The New Republic

"Wonderfully alive." —The New Yorker
 
"A Death in the Family remains one of the most beautifully written of all American novels. James Agee's talent was both luxuriant and precise, and the opening sequence is still one of the finest prose poems in our language. He is one of those writers who cause other writers to shiver with pure pleasure." —Pat Conroy
 
"People I know who read A Death in the Family forty years ago still talk about it. So do I. It is a great book, and I'm happy to see it done anew." —Andre Dubus
 
"For as long as fiction is read, James Agee's A Death in the Family stands as an American masterpiece. There is no stronger, more moving document in our literature than this account of a father's sudden death in the early years of our century. Here are the full spectrum of emotion and resonance, the tensile, perfectly nuanced language, the prayerful inquiry into identity itself, and characters so perfectly rounded that they exist in every specificity of inquiry, acute awareness, dumb love, and sensual arrest. This book has been my Bible; may it bless new generations of readers." —Jayne Anne Phillips