Alice Paul: Claiming Power (Hardcover)
Thank you for thinking of us! As of March 31, 2020 our physical store and this online catalog will be closed to customers. You can order from us online here, and get your books shipped straight to your home! The direct-to-home site will require a new username and password, but will also provide a 10% discount on your purchases. Your support is incredibly important to us and we will be hard at work recommending great titles for you on our online store and social media. Please stay safe, and happy reading!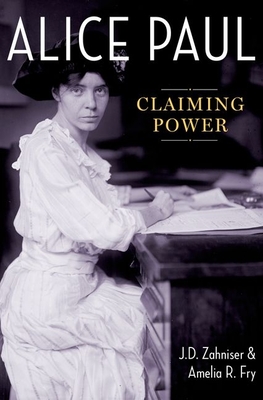 $50.64
Special Order - Usually Arrives Within a Week
Description
---
Alice Paul redirected the course of American political history. Raised by Quaker parents in Moorestown, New Jersey, she would become a passionate and outspoken leader of the woman suffrage movement. In 1913, she reinvigorated the American campaign for a constitutional suffrage amendment and, in the next seven years, dominated that campaign and drove it to victory with bold, controversial action-wedding courage with resourcefulness and self-mastery. This riveting account of Paul's early years and suffrage activism offers fresh insight into her private persona and public image, examining for the first time the sources of Paul's ambition and the growth of her political consciousness. Though many historians regard her Quaker upbringing as the greatest influence in her commitment to women's rights, J. D. Zahniser and Amelia R. Fry explore the ways in which her political zeal developed out of years of education, as well as from her early involvement with British suffragists Emmeline and Christabel Pankhurst. These two women helped to hone Paul's instincts and skills, which equipped her for later dealings with two important political adversaries, Woodrow Wilson and rival suffragist Carrie Chapman Catt. Using oral history interviews and the rich trove of Paul's correspondence, Zahniser and Fry substantially revise our understanding Paul's role in the suffrage movement. This compelling biography analyzes Paul's charisma and leadership qualities, sheds new light on her life and work, and is essential reading for anyone interested in the woman suffrage movement, particularly as the American centennial of the women's vote approaches.

About the Author
---
J. D. Zahniser is an independent scholar. She holds a doctorate in American and women's studies. Amelia R. Fry was an oral historian at the Regional Oral History Office of the Bancroft Library, University of California, Berkeley.