Veinte poemas de amor y una cancion de desesperada y cien sonetos de amor (Hardcover)
Thank you for thinking of us! As of March 31, 2020 our physical store and this online catalog will be closed to customers. You can order from us online here, and get your books shipped straight to your home! The direct-to-home site will require a new username and password, but will also provide a 10% discount on your purchases. Your support is incredibly important to us and we will be hard at work recommending great titles for you on our online store and social media. Please stay safe, and happy reading!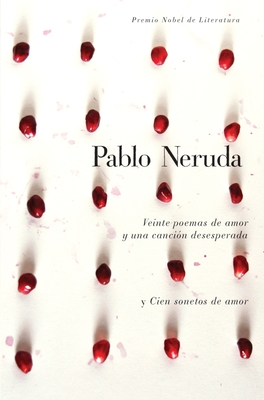 Description
---
Premio Nobel de Literatura

"El más grande poeta del siglo xx en cualquier idioma". —Gabriel García Márquez

Un gran éxito desde el mismo momento de su publicación en 1924 cuando el autor contaba con tan solo diecinueve años, Veinte poemas de amor y una canción desesperada causó un fuerte revuelo en la conservadora sociedad chilena debido a su franco retrato de la relación del autor con dos mujeres. Se convirtió inmediatamente en una de las colecciones de poesía más leídas, estableciendo a Neruda como una de las más singulares voces de la poesía en español del siglo XX. Incluso leído hoy, sigue sorprendiendo por su sincera descripción del amor y el sexo.
 
Tan pasional y hermosa como Veinte poemas de amor y una canción desesperada, Cien sonetos de amor incluye algunos de los más sensuales e intensos poemas de Pablo Neruda. Aunque publicada treinta y cinco años más tarde, retiene la ingenuidad y la intensa pasión del joven Neruda, mezclada con la sagaz mirada de un hombre que lo ha visto todo.
About the Author
---
Pablo Neruda, seudónimo de Ricardo Eliécer Neftalí Reyes, nació en Parral, Provincia de Linares, Chile, en 1904. Pasó la mayor parte de su infancia y adolescencia en Temuco, donde escribió sus primeros poemas. A partir de 1927 ocupó varios cargos consulares, primero en Asia y entre 1934 y 1938 en España, donde se hizo amigo de los escritores españoles de la Generación del 27. En 1940 se instaló en México y posteriormente, regresó a su patria donde, en 1945, fue elegido senador y recibió el Premio Nacional de Literatura. En 1971 fue nombrado embajador en París por el gobierno de Salvador Allende. Considerado uno de los mayores y más influyentes poetas de su siglo, fue reconocido con el Premio Nobel de Literatura en 1971. Tras menos de dos años en París, regresó a Santiago, donde murió en 1973.