I'll Always Have Paris: A Memoir (Large Print / Paperback)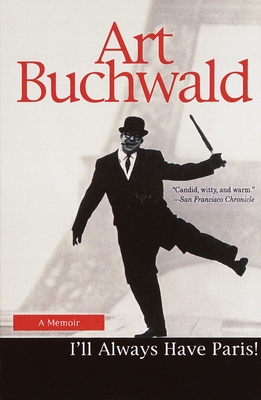 $19.00
Special Order - Usually Arrives Within a Week
Insight into a life well lived. Triumph and tragedy.
— Neighbor Pick by Scott from Lyme, CT
Description
---
"ART BUCHWALD DOES IT AGAIN. . . . A GREAT READ."
--Larry King, USA Today

In 1948, an American innocent named Art Buchwald set sail for Paris, France, determined to crash Hemingway's moveable feast and make himself famous. What's more, he did it.

Now he remembers those golden years--when he wrote for the Paris Herald Tribune, fell in love, spoofed Hemingway, dined with gangsters, and crashed costume balls in Venice. Everything that has made Buchwald one of the world's best-loved writers is in this funny, enchanting, poignant book.

"HONEST AND MOVING . . . A CONSUMMATE STORYTELLER."
--The New York Times Book Review

"ROLLICKING . . . The book gallops and gambols along. . . . Buchwald is a master of the anecdote."
--The Baltimore Sun
About the Author
---
Art Buchwald was born in Mount Vernon, New York, and raised in Hollis, Queens. After serving as a marine in the Pacific during World War II and attending the University of Southern California, he left the United States for Paris. There, Buchwald landed a job with Variety magazine and began writing his now-legendary columns, syndicated for decades in hundreds of newspapers. He received the Pulitzer Prize for outstanding commentary in 1982 and was elected to the American Academy of Arts and Letters in 1986. Buchwald was the author of thirty-three books, including the New York Times bestseller Leaving Home, a collection of political commentary, Beating around the Bush, and a memoir, Too Soon to Say Goodbye. He died in 2007.