Terminator: Poems, 2008-2018 (Hardcover)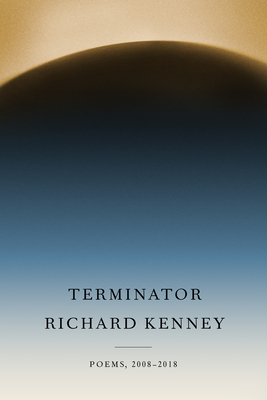 Staff Reviews
---
Ashamed to say I did not know about this poet. The book is stunning, my absolute favorite book of poems of 2019.
— Doug
Description
---
Love, science, and politics collide in this sharp assessment of who we are now, in a generous selection of work by the award-winning poet.

The terminator--the line, perpendicular to the equator, that divides night from day--is the organizing concept for this collection, which examines a world where "pert, post-apocalyptic / entertainment trades have trod the pocked / planet raw." Kenney's division of light verse from darker poems serves to remind us that what makes us laugh is often dead serious, and what's most serious can be best understood through wordplay, an ironic eye, the cleaving and joining magically effected by metaphor. With grace and candor, Richard Kenney thumbs through our troubles like a precious but scratched collection of vinyl: "the nature of emotion's analog, while languages are digital." From "Siri, Why Do I Wear a Necktie?" to the eternal springing of love ("Magnetic swipe to the blinking lock / is me to you"), Kenney reminds us that art's the best weapon to maintain our wits in very challenging times.
About the Author
---
RICHARD KENNEY is the author of four previous books of poetry: The Evolution of the Flightless Bird, Orrery, The Invention of the Zero, and The One-Strand River. His work has attracted recognitions, among them the Yale Series of Younger Poets Prize, a Lannan Literary Award, the Rome Prize in Literature, and fellowships from the Guggenheim and MacArthur Foundations. He teaches at the University of Washington and lives with his family on the Olympic Peninsula.
Praise For…
---
"Kenney's work is as alive and thrilling and fully human as anything I've read. It's the result of an extraordinarily curious mind and a world that is deeply felt—and it somehow includes us in that mind and in that experience. I read these poems and I see and think and (most astonishing of all) feel more acutely." —Jason Whitmarsh, Poetry Northwest