Raised from the Ground (Paperback)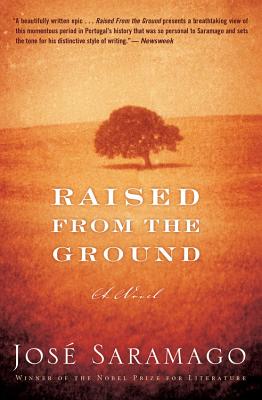 Staff Reviews
---
Brilliant! So well written! So well translated! The story of Portugal's peasants -- reveals their soul -- speaks to saudade.
— Elsie
December 2012 Indie Next List
---
"Published in Portugal in 1980 and just now appearing in English, Saramago's third novel was worth the wait. A pivotal book in the late Nobel laureate's development, this tale marks the debut of Saramago's inimitable literary voice: digressive, ironic, humorous, and graceful, but impatient with 'lyrical tosh,' it features a narrator who speaks as 'we' and embraces all of humanity in a drama of good versus evil. Scathing about the abuse of the poor by the rich and powerful, Saramago's story is nonetheless written from a deep faith in the pure-heartedness and resilience of the human spirit, showing how even the most down-trodden will eventually rise up."
— Laurie Greer, Politics & Prose Books and Coffee Shop, Washington, DC
Description
---
"
Essential...A novel that resounds with relevance for our own time." —New York Times Book Review
First published in 1980, the City of Lisbon Prize–winning
Raised from the Ground
follows the changing fortunes of the Mau Tempo family—poor landless peasants not unlike Saramago's own grandparents. Set in Alentejo, a southern province of Portugal known for its vast agricultural estates, the novel charts the lives of the Mau Tempos as national and international events rumble on in the background—the coming of the republic in Portugual, the two world wars, and an attempt on the dictator Salazar's life. Yet nothing really impinges on the grim reality of the farm laborers' lives until the first communist stirrings.
Raised from the Ground is Saramago's most deeply personal novel, the book in which he found the signature style and voice that distinguishes all of his brilliant works.
About the Author
---
JOSÉ SARAMAGO (1922–2010) was the author of many novels, among them Blindness, All the Names, Baltasar and Blimunda, and The Year of the Death of Ricardo Reis. In 1998 he was awarded the Nobel Prize for Literature.
MARGARET JULL COSTA has established herself as the premier translator of Portuguese literature into English today.
Praise For…
---
Praise for José Saramago and Raised from the Ground "Essential...A novel that resounds with relevance for our own time." —New York Times Book Review"A beautifully written epic...Raised from the Ground presents a breathtaking view of this momentous period in Portugal's history." —Daily Beast"Drawn from the experiences of the author's own ancestors, the novel is sustained by Saramago's rich descriptions, which can capture a span of time in a single image...or telescope a moment into a mystical event." —The New Yorker"A fascinating, personal portrait of a nation and its people…A great example of Saramago's distinct voice and style, famous for its insightfulness and inventiveness and keen use of parable and irony." —Real Simple"Saramago is arguably the greatest writer of our time." —Chicago Tribune"A beautifully modulated performance, juxtaposing scenes of great, often tender lyrical beauty with scenes of violence and despair…Raised from the Ground resonates powerfully as a personal statement of beliefs." —Richmond Times-Dispatch"In the case of the Portuguese writer José Saramago, the Nobel Committee got it right for once." —The Seattle Times"It isn't Saramago's political pessimism that makes him a great novelist, although one may well share it. It's his profligate interest in life, his storyteller's joy with words, his understanding that the realms of experience and ideas need not be separate, his belief in the possibility of finding love and changing your life at any age, his lyricism on such subjects as food and sleep, his undiluted affection for all his characters." —Salon.com"Reading the Portuguese writer José Saramago, one quickly senses the presence of a master." —The Christian Science Monitor"A masterly piece of work, beautifully shaped and composed and emotionally affecting… Saramago doesn't demand that readers weep for his characters. He just demands respect for their quiet lives and limited possibilities." —The Onion's A.V. Club "[Saramago's] narrative voice is unmistakable: a mature, quiet voice, conversational and easy, often ironical or endearingly humorous, that flows forward always weaving and interbraiding with itself, wandering but never losing impetus, like a big river running through a dry land." —Ursula K. LeGuin, The Guardian"Hypnotic, lyrical and dynamic…Raised from the Ground is a lovely and fascinating read, fiction of the highest order." —Toronto Star"Saramago seamlessly juxtaposes bleak realism and fanciful folklore as only someone who lived the harshest of reality can dare… Sometimes it is delivered with great wisdom, and other times, unexpectedly, with humor, yet all Saramago's prose is rendered without any sense of distance from the characters he has created." —The Post and Courier"Saramago's poetic and political fans of the English-speaking world will unite in appreciation for this long-awaited translation." —Booklist