What's in a Name (Paperback)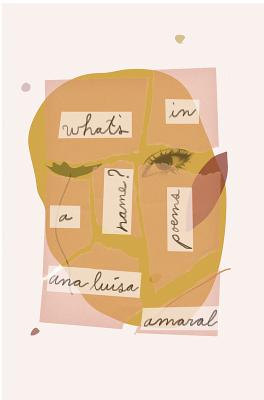 $16.95
On Our Shelves Now / En Nuestros Estantes Ahora
Description
---
Poems of effervescent grace from one of the best-known and best-loved poets of Portugal
With the elliptical looping of a butterfly alighting on one's sleeve, the poems of Ana Lui´sa Amaral arrive as small hypnotic miracles. Spare and beautiful in a way reminiscent both of Szymborska and of Emily Dickinson (it comes as no surprise that Amaral is the leading Portuguese translator of Dickinson), these poems—in Margaret Jull Costa's gorgeous English versions—seamlessly interweave the everyday with the dreamlike and ask "What's in a name?"
"How solid is a name if answered to," Amaral answers, but "like the Rose—no, like its perfume: ungovernable. Free." There is much freedom within Amaral's poetry, room for mysteries to multiply, and yet her beautiful lines are as clear as water:
And that time of smiles Which does, incidentally,
really exist, I swear, as does the fire
And the invisible sea, which with nothing will agree
About the Author
---
Ana Luísa Amaral was born in Lisbon in 1956, and her writing has been translated into a dozen languages and has won many major awards.

Award-winning translator Margaret Jull Costa lives in England.
Praise For…
---
With the original Portuguese to the left and the translated English to the right, this collection of poems beautifully weaves together myths, histories, voyages, and language with elegant ease. Amaral wears her attentiveness on her sleeve, deftly considering her place at home, in her city, and in the wilds.

Amaral carves a space for fragmentation, uncertainty, and meditative silence within the repertoire of inherited forms. In this accomplished volume and translation, Amaral's subtle experimentation makes strange an artistic repertoire we thought we knew.

Ana Luisa Amaral's poems read as intimate conversations between the poet and reader, in either the early hours of morning or the late hours of night, where small, everyday moments quickly spiral into great cultural, historical, and even cosmic significance. Brilliant.

This bilingual volume, pairing Costa's translations with Amaral's Portuguese originals, relies on humble imagery and plain language to plumb complicated truths.

Inspired: while Costa is particularly adept at bringing into English these moments sought by Amaral of beauty and significance amid the superficially
prosaic, she is equally at home with re-creating the texture and density of
Amaral's restrained and aphoristic Portuguese, saturating each word and truncated line with meaning. Amaral's poetry possesses an intimacy that grants
it a sense of timelessness. Yet it speaks to the moment we find ourselves in
today.

In a limpid, poised poetry Ana Luísa Amaral evokes interlinked substances (a book, a mood, a mosquito, color itself, love and trust as central, being a mother, domestic moments and their metamorphic transformations) and affirms Being in the world with both a bedazzled clarity and a notable patience with mysteries and divisions. The strong poems of visitations by the muse herself evoke lyrics of Sappho, while Amaral's modernist side-glance takes in the oddity of the intersection of us and the cosmos of atoms and chance. Here is a lucid, forthright poet charmed by the paradoxes of each poem, by the tiny gestures and traces of life faceted within each poem, and by the vocation of poetry itself. 
— Rachel Blau DuPlessis

Brilliant: her words celebrate the hidden potentiality inside every woman—and the spontaneity of life itself, even in the contemplation of sudden death.