Shadow Country (Paperback)
Thank you for thinking of us! As of March 31, 2020 our physical store and this online catalog will be closed to customers. You can order from us online here, and get your books shipped straight to your home! The direct-to-home site will require a new username and password, but will also provide a 10% discount on your purchases. Your support is incredibly important to us and we will be hard at work recommending great titles for you on our online store and social media. Please stay safe, and happy reading!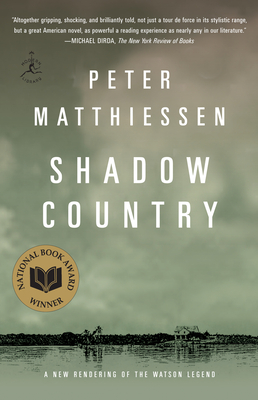 Description
---
NATIONAL BOOK AWARD WINNER •  "Altogether gripping, shocking, and brilliantly told, not just a tour de force in its stylistic range, but a great American novel, as powerful a reading experience as nearly any in our literature."—Michael Dirda, The New York Review of Books

Killing Mister Watson, Lost Man's River, and Bone by Bone—Peter Matthiessen's great American epic about Everglades sugar planter and notorious outlaw E. J. Watson on the wild Florida frontier at the turn of the twentieth century—were originally conceived as one vast, mysterious novel. Now, in this bold new rendering, Matthiessen has marvelously distilled a monumental work while deepening the insights and motivations of his characters with brilliant rewriting throughout. 

Praise for Shadow Country

"Magnificent . . . breathtaking . . . Finally now we have [this three-part saga] welded like a bell, and with Watson's song the last sound, all the elements fuse and resonate."—Los Angeles Times

"Peter Matthiessen has done great things with the Watson trilogy. It's the story of our continent, both land and people, and his writing does every justice to the blood fury of his themes."—Don DeLillo

 "The fiction of Peter Ma­­tthiessen is the reason a lot of people in my generation decided to be writers. No doubt about it. Shadow Country lives up to anyone's highest expectations for great writing." —Richard Ford 

"Shadow Country, Matthiessen's distillation of the earlier Watson saga, represents his original vision. It is the quintessence of his lifelong concerns, and a great legacy."—W. S. Merwin 

"[An] epic masterpiece . . . a great American novel."—The Miami Herald
About the Author
---
Peter Matthiessen has written eight novels, including At Play in the Fields of the Lord (nominated for the National Book Award) and Far Tortuga, and also a book of short stories, On the River Styx. His parallel career as a naturalist and environmental activist has produced numerous acclaimed works of nonfiction, most of them serialized in The New Yorker; these include The Tree Where Man Was Born (another National Book Award nominee) and The Snow Leopard (a National Book Award winner). He was elected to the American Academy of Arts and Letters in 1974.
Praise For…
---
"Altogether gripping, shocking, and brilliantly told, not just a tour de force in its stylistic range, but a great American novel, as powerful a reading experience as nearly any in our literature."—Michael Dirda, The New York Review of Books

"Magnificent . . . breathtaking . . . Finally now we have [this three-part saga] welded like a bell, and with Watson's song the last sound, all the elements fuse and resonate."—Los Angeles Times

"Peter Matthiessen has done great things with the Watson trilogy. It's the story of our continent, both land and people, and his writing does every justice to the blood fury of his themes."—Don DeLillo

 "The fiction of Peter Ma­­tthiessen is the reason a lot of people in my generation decided to be writers. No doubt about it. Shadow Country lives up to anyone's highest expectations for great writing." —Richard Ford 

"Shadow Country, Matthiessen's distillation of the earlier Watson saga, represents his original vision. It is the quintessence of his lifelong concerns, and a great legacy."—W. S. Merwin 

"[An] epic masterpiece . . . a great American novel."—The Miami Herald