Memoria de mis putas tristes (Paperback)
Thank you for thinking of us! As of March 31, 2020 our physical store and this online catalog will be closed to customers. You can order from us online here, and get your books shipped straight to your home! The direct-to-home site will require a new username and password, but will also provide a 10% discount on your purchases. Your support is incredibly important to us and we will be hard at work recommending great titles for you on our online store and social media. Please stay safe, and happy reading!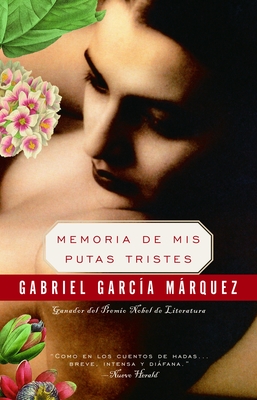 Description
---
"El año de mis noventa años quise regalarme una noche de amor con una adolescente virgen."

Un viejo periodista decide festejar sus noventa años a lo grande, dándose un regalo que le hará sentir que todavía está vivo: una jovencita. En el prostíbulo de un pintoresco pueblo, ve a la jovencita de espaldas, completamente desnuda, y su vida cambia radicalmente. Ahora que la conoce se encuentra a punto de morir, pero no por viejo, sino de amor.

Así, Memoria de mis putas tristes cuenta la vida de este anciano solitario lleno de man'as. Por él sabremos cómo en todas sus aventuras sexuales (que no fueron pocas) siempre dio a cambio algo de dinero, pero nunca imagino que de ese modo encontrar'a el verdadero amor.

Esta nueva novela es una conmovedora reflexión que celebra las alegrías del enamoramiento y contempla las desventuras de la vejez, escrito en el estilo incomparable de Gabriel García Márquez.



"In my ninetieth year, I decided to give myself the gift of a night of love with a young virgin."

An elderly journalist decides to celebrate his 90 years in a grand way, giving himself a present that will make him feel like he's still alive: a virgin. In the brothel of a picturesque town, he sees the young woman from the back, completely naked, and his life changes radically. Now that he meets her he finds himself close to dying, not of old age, but rather of love.

Memoria de mis putas tristes is the story of this eccentric, solitary old man, a narrative of his sexual adventures (of which there were many), for which he always paid, never imagining that this would be the way he would discover true love.

This new novel, written in Gabriel García Márquez's incomparable style movingly, contemplates the misfortunes of old age and celebrates the joys of being in love.
About the Author
---
Gabriel García Márquez, nacido en Colombia, fue una de las figuras más importantes e influyentes de la literatura universal. Ganador del Premio Nobel de Literatura, fue además cuentista, ensayista, crítico cinematográfico, autor de guiones y, sobre todo, intelectual comprometido con los grandes problemas de nuestro tiempo, en primer término con los que afectaban a su amada Colombia y a Hispanoamérica en general. Máxima figura del realismo mágico, fue en definitiva el hacedor de uno de los mundos narrativos más densos de significados que ha dado la lengua española en el siglo xx. Entre sus obras más importantes se encuentran las novelas Cien años de soledad, El coronel no tiene quien le escriba, Crónica de una muerte anunciada, La mala hora, El general en su laberinto, El amor en los tiempos del cólera, Memoria de mis putas tristes, el libro de relatos Doce cuentos peregrinos, la primera parte de su autobiografía, Vivir para contarla, y sus discursos reunidos, Yo no vengo a decir un discurso. Falleció en 2014.
Praise For…
---
"Como en los cuentos de hadas...breve, intensa y diáfana. Tiene la transparente belleza de sus historias, el humor y la riqueza de su lenguaje, el tono bíblico, pero sobre todo, los símbolos de su universo literario, que ya son parte esencial del imaginario popular." 
—El Nuevo Herald

"...El maestro ha producido Memoria de mis putas tristes para el deleite de los millones de lectores que ha conquistado en el mundo". —Hoy