The Bartender's Tale (Hardcover)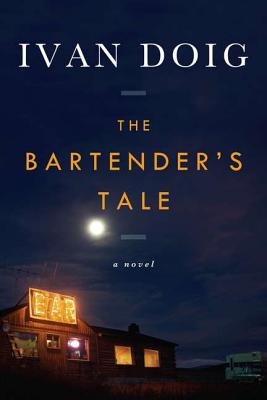 Incredibly well written. It makes you feel the Montana winters and the amazing characters.
— Neighbor Pick by Jim from McClellan Park
September 2012 Indie Next List
---
"Always one of the West's best storytellers, Doig has achieved here the perfect fictional mix: winning, believable characters; an intricate, timely, and surprising plot; and a Montana setting that pivots between the early days of JFK in the 1960s and the 1930s of Franklin Delano Roosevelt. I frequently fall in love with books, but The Bartender's Tale is no mere infatuation!the love I feel for it will last a lifetime."
— Betsy Burton, The King's English, Salt Lake City, UT
Description
---
From a great American storyteller, a one-of-a-kind father and his precocious son, rocked by a time of change.


Tom Harry has a streak of frost in his black pompadour and a venerable bar called The MedicineLodge, the chief watering hole and last refuge of thetown of Gros Ventre, in northern Montana. Tom alsohas a son named Rusty, an accident between thesheets whose mother deserted them both years ago.The pair make an odd kind of family, with the bartheir true home, but they manage just fine.

Until the summer of 1960, that is, when Rusty turns twelve. Change arrives with gale force, in theperson of Proxy, a taxi dancer Tom knew back when, and her beatnik daughter, Francine. Is Francine, asProxy claims, the unsuspected legacy of her andTom's past? Without a doubt she is an unsettlinggust of the future, upending every certainty inRusty's life and generating a mist of passion andpretense that seems to obscure everyone's visionbut his own. As Rusty struggles to decipher theoddities of adult behavior and the mysteries buildtoward a reckoning, Ivan Doig wonderfully captureshow the world becomes bigger and the past becomes more complex in the last moments of childhood.
About the Author
---
A third-generation Montanan, Ivan Doig is the authorof thirteen previous books, including the Indieboundbestseller "Work Song" and theclassic memoir "This House ofSky." He has been a National Book Award finalistand has received the Wallace Stegner Award, among many other honors. He lives in Seattle."