The Wizard's Tears (Hardcover)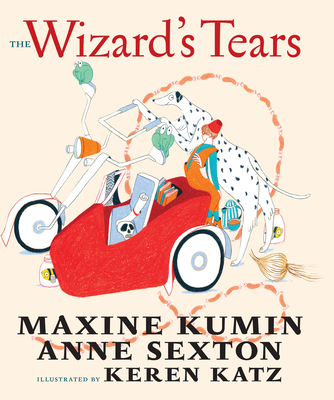 $18.95
On Our Shelves Now / En Nuestros Estantes Ahora
Description
---
A lonely wizard moves to a new town in this charming children's story by renowned American poets Anne Sexton and Maxine Kumin, now in print again for the first time in decades.

Everything is going wrong in the town of Drocknock until the new wizard arrives. He is very young, and he is lonely, and very nervous too; but he knows just where to find the right spells to stop the chicken pox epidemic and bring back the twenty cows that had disappeared. The drought is the town's most important problem, however. The new wizard needs five of his own tears to bring rain, but he is so happy in Drocknock he cannnot cry!
    "Peel an onion," the old wizard advises. "But," he warns, "beware, beware...a wizard's tears are powerful. They can make strange magic.".....
    The Wizard's Tears, first published in 1975, is moving and kind and funny in its intimate and modest way, yet strong and full of renewed life with stunning new illustrations from Keren Katz. Anne Sexton and Maxine Kumin had been friends for several years--having met at and carpooled to a Boston poetry workshop--when they began writing books together for younger readers. The creativity and versatility required for children's books offered the two poets the opportunity to experiment and play with language in new, unexpected ways, to connect world and words with humble, powerful, childlike imagery--"not unlike writing a poem where compression acts to intensify feelings," as Maxine reckoned.
About the Author
---
ANNE SEXTON (1928-1974) is a world-renowned American poet, known for her highly personal, intimist verse. She is the author of many highly praised poetry collections including Live or Die, which won the Pulitzer Prize in 1967. She wrote three other books for children with her friend Maxine Kumin--The Egg of Things, More Eggs of Things, and Joey and the Birthday Present--all of which will be reiussued by Triangle Square Books for Young Readers.

Honored as America's poet laureate from 1981 to 1982, MAXINE KUMIN (1925-2014) has been the recipient of many literary awards including the Pulitzer Prize (1973), the Ruth Lilly Poetry Prize (1999), and the Los Angeles Times Book Prize (2011). In addition to her seventeen poetry collections, novels, and essay collections for adults, she is the author of many children's books including Oh, Harry! (illustrated by Barry Moser), Mites to Mastodons (illustrated by Pam Zagarenski), and The Microscope (illustrated by Arnold Lobel).

Keren Katz is an illustrator, comics artist and the non fictitious half of The Katz Sisters Duo. She graduated Bezalel Academy in Jerusalem, and received an MFA from The School of Visual Arts in NYC. She has contributed stories to anthologies world-wide, self publishes mini-comics all year round, practices performative, interactive and collaborative storytelling marathons in odd locations, and is part of The Humdrum Comics Collective and Pathos Mathos Company. Her debut graphic novel is titled The Academic Hour (Secret Acres, 2017).
Praise For…
---
"Kumin and Sexton's 1975 tale of a reckless young wizard gets a makeover with Katz's vibrant, whimsical illustrations ... An excellent read-aloud for older picture-book readers, while many of the words repeat throughout the text to support emerging independent readers' facility with language ... Silly, sincere, and optimistic, this reissue with new illustrations will delight a new generation (or two)." —Kirkus Reviews