American Nero: The History of the Destruction of the Rule of Law, and Why Trump Is the Worst Offender (Hardcover)
Thank you for thinking of us! As of March 31, 2020 our physical store and this online catalog will be closed to customers. You can order from us online here, and get your books shipped straight to your home! The direct-to-home site will require a new username and password, but will also provide a 10% discount on your purchases. Your support is incredibly important to us and we will be hard at work recommending great titles for you on our online store and social media. Please stay safe, and happy reading!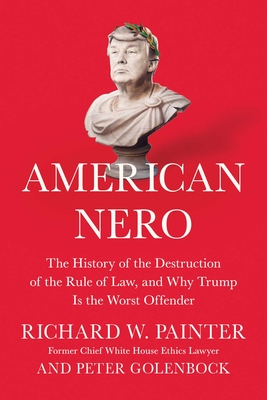 $26.95
On Our Shelves Now / En Nuestros Estantes Ahora
About the Author
---
Richard Painter, a Republican, worked in the George W. Bush Administration as associate counsel to the President in the White House Counsel's office from February 2005 to July of 2007. His specialties are government ethics, business ethics, and lawyers' ethics. Since Donald Trump began his run for the presidency in 2016, Painter has been an outspoken critic of candidate Trump and President Trump, appearing frequently on such popular cable news stations as CNN and MSNBC. The author of two books, he has also appeared on NPR's All Things Considered and recently was a guest on The Bill Maher Show. Norman Eisen, President Barack Obama's ethics chief, described Painter as "the Number 1 scholar in the country on government ethics." Painter, like the President, has a dedicated and faithful Twitter following. Peter Golenbock, a graduate of NYU Law School, has written 65 books, ten of which have been New York Times bestsellers. In addition to his best sellers about sports and with sports figures, he has also written Presumed Guilty with Jose Baez, the attorney for Casey Anthony, The Chairman, written with Jim Greer, the chairman of the Republican Party of Florida, and In The Country of Brooklyn, a book about the liberal strain emanating from there.